Every year summer seems to catch me by surprise but this time I'm being proactive!
The older kids are here for the first half of their vacation and I refuse to let them turn into BLOBS.  I figure that the first couple of days are plenty of time for enjoying laying around doing nothing… but after that…. TV and computer time will be at a minimum  especially during the day!
I want them occupied and engaged and avoid the usual
"Wow, I didn't really DO anything all summer" senerio!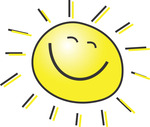 Summer To Do List
A few fun things to occupy yourselves with:
1. Make bubbles and wands
2. Swing on the tire swing
3. Building a play house/fort outside
4. Play school, bank, store
5. Memorize a few Bible verses
6. Memorize a poem
7. Write a play
8. Act out a play
9. Hold a recital
10. Look up and learn some hand rhymes
11. Make a campfire
12. Make knight costumes and hold a duel with your sword and shield
13. Play board games
14. Make a tent out of blankets or sheets
15. Squirt each other with hoses
16. Run through the sprinkler
17. Learn fancy jump rope moves
18. Read a book
19. Make homemade play dough
20. Play with play dough
21. Write a nice letter to someone
22. Make a craft from the junk box
23. Draw a picture
24. Make homemade watercolor
25. Paint with watercolors
26. Hide and Seek
27. Print out fun pages to color
28. Rake leaves into jump pile
29. Write and illustrate a story
30. Dress up and perform a circus
31. Play card games
32. Play catch
33. Play baseball
34. Collect interesting rocks
35. Make Rock Pets
36. Play Frisbee
37. Play dress-up
38. Uses scraps to make costumes
39. Cook a meal
40. Prepare a "restaurant" lunch with menus
41. Have a tea party
42. Have a picnic
43. Build roads for toy cars
44. Build a town for the toy cars
45. Play house
46. Collect weird bugs
47. Plant seeds and watch them grow
48. Have a tea party and practice proper manners
49. Sprout seeds or beans
50. Make sock puppets
51. Put on a puppet show
52. Make Christmas presents and cards ahead of time
53. Make decorated picture frames from cardboard
54. Make bookmarks
55. Watch the clouds and find shapes
56. Whittle soap into something
57. Make musical instruments
58. Wash the cars
59. Decorate the tree in a summer theme
60. Decorate things with beads
61. Pickup sticks…pleeease
62. Copy your favorite illustration
63. Design your own board game
64. Build with blocks or Lego's
65. Learn to play marbles
66. Paint a picture with lemon juice on white paper
67. Make a dessert
68. Make and design your own journal
69. Write daily in your journal
70. Play flashlight tag after dark
71. Play soccer
72. Pick experiments from science book
73. Make up a progressive story
74. Stargaze
75. Listen to the birds and find out what it is
76. Try to imitate bird calls
77. Read a story to a younger child
78. Dye noodles
79. Make a necklace or craft from dyed noodles
80. Learn to play jacks
81. Write a song
82. Make a teepee out of sticks and blankets
83. Draw a cartoon strip
84. Finger paint with shaving cream
85. Make puff paint
86. Collect sticks and mud and build a bird's nest
87. Learn to use MS Word well!
88. Write articles for a pretend family newspaper
89. Put together a family newsletter
90. Bake a cake or cupcakes
91. Bake a batch of cookies… or two
92. Decorate a shoe box to hold your treasures
93. Learn to make paper airplanes
94. Have a paper airplane race
95. Learn origami
96. Make an obstacle course
97. Make homemade face paint
98. Paint your face
99. Learn to braid your own hair!
100. Play tag, red-light-green light, mother may I?
101. Learn about sundials and make one
102. Make pom poms out of yarn for decorating
103. Paint and decorate cans for plant pots
104. Make chalk paint
105. Dig a mud hole and get dirty!
106. Spray paint beans and use to make a mosaic
107. Make paper or tissue flowers
108. Make bean bags and learn how to juggle
109. Do good deeds for someone!
110. Draw caricatures of each other
111. Make birdhouses out of the recyclables
112. Make and fly a kite
113. Learn simple embroidery
114. Make rock candy
115. Make geodes
116. Make pickled eggs
117. Play with mini salt filled sand box
118. Color salt and use glue to make pictures
119. Build a volcano outside
120. Learn how to digital scrapbook
121. Use photo editor to make funny photos
122. Make piggy banks from bleach bottles
123. Make sturdy pretty paper fans
124. Dye rice for making artwork
125. Build a robot from the metal recyclables
126. Make a detailed model of the solar system
127. Make dollhouse from extra bookcase
128. Make animation flip books
129. Make keepsake handprint art
130. Decorate scrap fabric with melted crayon art
131. Make windsocks and plastic spinners for the trees

And if you're brave enough to say "I'm bored" the following is what you'll be doing!
132. Clean your bedroom
133. Clean your bathroom
134. Clean under the couch and cushions!
135. Dust the window blinds
136. Clean sliding glass doors
137. Clean inside and outside of car windows
138. Help fold and put away laundry
139. Sweep kitchen, bathroom , hall, or porch
140. Pull weeds